Ovonic,a professional manufacturer of RC LiPo batteries, provides the customers with applied and practical products at best prices.
Ovonic 2s 450mAh 7.4v with JST plug lipo battery is designed for small heli and airplane.
There are more RC airplane lipo batteries for your selection.
Specifications of 7.4v 450mAh JST plug:
– Brand : Ovonic
– Chemistry : Li-polymer
– Length(dev.5mm) : 55mm
– Width(dev.2mm) :30mm
– Height(dev.2mm) : 10mm
– Capacity : 450mAh
– Voltage : 7.4V
– Cell Number : 2S1P
– Discharge Rate : 50C
– Max Burst Discharge Rate : 100C
– Net Weight(dev.20g) : 60g(30g for one pack)
– Connector Type : JST Plug
– Balance Connector Type : JST-XH
Compatible with:
Ovonic 450mah 2s with JST plug for small heli and foam plane, micro quad. Emax Babyhawk 87mm, Eachine Aurora 100 Mini, FPV micro brushless drone, Blade Micro AH-64 Apache, 250 helicopters, etc.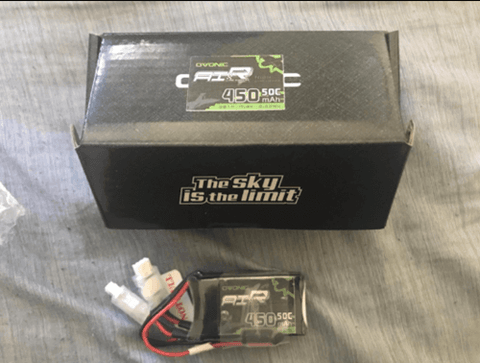 Please Notice:
For the RC battery, only if the voltage and the plug match, then it will fit.
Please stop charging immediately when the cell voltage been charged to 4.2V (Normal cell voltage is between 3.7V~4.2V).
To double make sure safety, please have a check first whether the battery surface is alright when you get it and whether the voltage is normal before using.
If the new battery won't hold a full charge or loss the charge very quickly in a short time, please use Balance Charger to charge and recycle several times first.